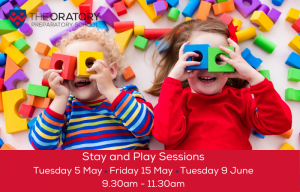 Pre-Reception aged children and their parents are invited to enjoy a morning of fun and adventure in our Little Oaks Nursery. Sessions include a range of exciting and sensory activities in our classroom and outdoors. Children aged 3 years and older will be able to spend some time in our Reception classes.
A snack will be provided for children and refreshments will be available for adults.
There is no charge for these sessions but spaces are limited.
Our next sessions are:
Tuesday 5 May 9.30am – 11.30am
Friday 15 May 9.30am – 11.30am
Tuesday 9 June 9.30am – 11.30am
Please register to reserve your space: either email: c.atkinson@oratoryprep.co.uk, call 0118 976 6924 or complete the form below.
Registration for Stay and Play
Please do NOT leave a space in your postcode and please complete ALL fields with an asterisk. Thank you.