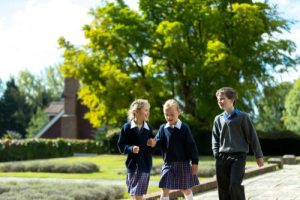 The Pre-Prep children join the Prep school when they move up to Year 3. There are many ways in which we help to make this transition as easy as possible for the children. For example, in Year 2 the children are invited to Prep assemblies and to see plays put on by the Prep children where possible, to begin to understand the activities they will take part in when they move up.
They are each allocated a Big Buddy (in Year 5) who remains their buddy for their first three years in the Prep school. This Buddy will be their friend and offer support with any questions the child might have about the transition to Prep.
In June of Year 2, the children spend an afternoon in the Prep to familiarise themselves with the department. They meet their Buddy who takes them on a tour and answers any questions they may have. The Year 2 children bring their completed 'Passports to Prep' which they share with their buddy, and they have lunch and play time together.
At the end of the Summer term the Year 2 children have a morning with their new class and teacher in the Prep school. They also complete a challenge activity with their Buddy.