Here at the Oratory Prep School we pride ourselves on the standard and quality of our drama department. From an early age children are exposed to the dramatic arts and this exposure is only completed once they leave our school and move onto their future schools.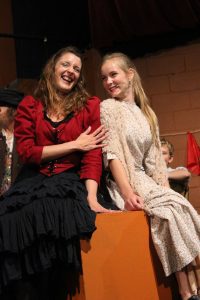 To this end the OPS has an excellent track record of gaining Drama Scholarships to high schools and in the past Scholarships have been won to schools such as Pangbourne, Headington, The Oratory School and Abingdon.
Drama begins in the early years and every year group in the Pre Prep Department undertakes at least two productions a year. This active involvement continues into the Prep School and in all years every child is involved in a school play. As the children move up the school their involvement grows and in year seven every pupil takes part in the dramatization of the life and times of St Thomas Beckett and year seven pupils may audition to take part in the Shakespeare School's Festival, an event that they perform at in their first term of year eight. Julius Ceasar, Hamlet, Romeo and Juliet and so on have been staged over the past ten years.
Year Eight also sees the culmination of their drama career at the school. In the final week of the summer term the 'leavers play' is staged. Past productions have included, 'Oliver', 'Whistle Down the Wind', 'Oh, What A Lovely War' and 'Godspell'.
It is the year eight pupils who are invited to be involved in the Drama Scholarship programme. Generally speaking about 6 pupils get this invite. They then proceed to work with the Head of Drama for about sixteen weeks before presenting to their High school.
In the past two years the school has also offered drama as a subject to year six and five pupils. This is a specialised class in which children learn about the discipline of the subject. Two lessons a week are devoted to the subject. We have also recently started to offer Lamda as an extra. The school is now a Lamda examination centre and in the most recent examinations, every pupil who sat their Lamda examination gained a distinction.
The school also takes children to watch productions, from pantomimes to the Musicals.
Drama is alive and well at the OPS.