The Great OPS Bake Off made its debut on Thursday 28 March, with 17 finalists and their amazingly creative and delicious cakes. Mrs Robb, Mr Sexon and Mrs Butler scored each cake in 10 year groups according to presentation, taste, texture and originality. There were many tense moments but the winners were revealed and received a huge round of applause from the pupil and staff audience.
The Bake Off was the ingenious idea of the Year 8 pupils, who are raising money Path out of Poverty which is part of their South Africa Sports and Cultural tour in July. The Goedgedact Trust relies on donations of any size to help provide South African children with a safe place to grow and develop life skills, thus giving them the best chance to succeed.
Congratulations to all the entrants and winners. The contributions took the total raised so far to a fabulous £4000.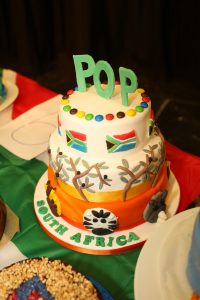 Categories:
Uncategorised