The OPS community were delighted to welcome a visiting saxophone quartet into school on Thursday 12th May. Pupils in Years 3 – 8 had the opportunity to watch the very talented Ferio Saxophone Quartet perform a short concert in the theatre, featuring a variety of musical pieces including the theme tune from 'Toy Story'.
Following their performance, three of our Year 8 students, Jessica, Archie and Izzie, took to the stage to each perform a piece of music to which members of the Quartet gave their feedback as part of an inclusive masterclass.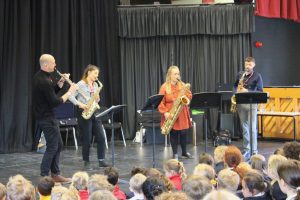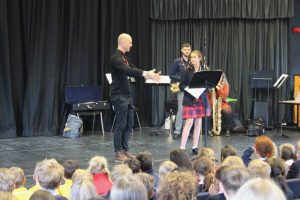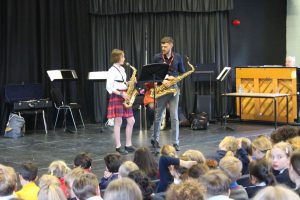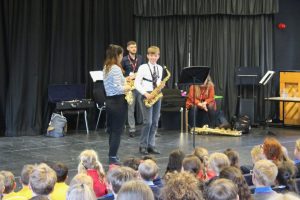 As one of the leading British saxophone quartets among the new generation of artists, the Ferio Saxophone Quartet consistently receives a highly enthusiastic reception from audiences and critics alike.
In 2015, Ferio made their debut at the Purcell Room, as winners of The Philharmonia/Martin Musical Ensemble Award and during the same year were winners of the Royal Over-Seas League's Ensemble Competition. They received the Tunnell Trust Award in 2014/15 and were Park Lane Group Artists for the 2016 season. The ensemble was a St John's Smith Square Young Artist 2016-2017; during the course of the year this scheme involved Ferio in a number of projects focusing on marketing, commissioning and outreach work in addition to a series of concerts.
The ensemble has performed at Queen Elizabeth Hall, Wigmore Hall, Conway Hall, Cambridge Summer Festival and the Three Choirs Festival, and has given concert tours in Scotland and the Channel Islands. They have also played at the Bermuda, Edinburgh Fringe, Brighton, Newbury, Machynlleth, North Norfolk and Petworth Festivals. In November 2017 the quartet travelled to New Zealand giving concerts organised by the Royal Over-Seas League where they also joined the panel of adjudicators for the Pettman/ROSL Arts Scholarship auditions.
Categories:
Music